SHALOM!
TORAH PORTION NO. 16: "Beshalach – When he sent — בשלח"
---
TORAH (First Five books of the Holy Biblical Scriptures/Five Books of Moses)
Exodus 13:7 – 17:16
HAF-TORAH ( usually PROPHETS and/or WRITINGS) – Prophets
Judges 4:4 – 5:31
BRIT CHADASHAH (NEW COVENANT/TESTAMENT) – Gospels
Matthew 14:22-33
---
Note: The regular readings above are often interrupted with special readings on Jewish holidays, special Sabbaths, and Rosh Chodesh. Refer to the annual Torah Portion schedule for these special portions.
---
Portion Summary
The sixteenth reading from the Torah is named Beshalach (בשלח), which means "When he sent." The title comes from the first verse of the reading, which can be literally translated to say, "And it happened when Pharaoh sent out the people." The reading tells the adventures of the Israelites as they leave Egypt, cross the Red Sea, receive miraculous provision in the wilderness and face their first battle.
---
Portion Outline
TORAH

Exodus 13:17

|

The Pillars of Cloud and Fire

Exodus 14:1

|

Crossing the Red Sea

Exodus 14:26

|

The Pursuers Drowned

Exodus 15:1

|

The Song of Moses

Exodus 15:20

|

The Song of Miriam

Exodus 15:22

|

Bitter Water Made Sweet

Exodus 16:1

|

Bread from Heaven

Exodus 17:1

|

Water from the Rock

Exodus 17:8

|

Amalek Attacks Israel and Is Defeated

PROPHETS

Jdg 4:1

|

Deborah and Barak

Jdg 5:1

|

The Song of Deborah
---
Today (Friday 26th to Saturday 27th January 2018) is SHABBAT "BESHALACH/When He Sent or Let Go".
Finally, Pharoah lets the Children of Israel go free from Egypt after Almighty YAHUVEH/YAHWEH ELOHIM devastates the land of Egypt with all manner of plagues some not mentioned in the Book of Exodus, such the leviathan that went from the sea and took of the roof tops of the Egyptians' houses, etc. It's interesting that after all that, the Egyptians still did not give up on enslaving the Children of Israel.
This is the 16th TORAH Portion Reading.
Praise YAHUVEH ELOHIM Almighty for HIS mighty power!!! If we hide in HIM, HE fights for us!
SHABBAT SHALOM!
Do you know that after Pharoah's subjects and chariots were drowned in the Red Sea (meant to be Reed Sea or Sea of Reeds), Pharoah did not return to Egypt to rule or testify.
When Pharoah bowed HIS knee before ABBA YAHUVEH ELOHIM thereby acknowledging HIM as the only GOD (a.k.a YAH/ELOHIM), YAHUVEH ELOHIM had mercy on him then sent one of HIS Holy Angels to Pharoah. The Angel carried Pharoah to Nineveh (present day Mosul, Iraq) where Pharoah ruled and reigned for a long time.
Prayer based on Today's TORAH Portion:
May ABBA YAHUVEH in HIS infinite mercy cause every Spiritual Sea of Reeds (a.k.a Red Sea) before you to part in YAHUSHUA'S (a.k.a JESUS'/YESHUA'S) name, that you may gain your rightful freedom from bondage/slavery in YAHUSHUA'S name and the power of YAHUSHUA'S blood!!!
Additionally, May ABBA YAHUVEH cause you to cross every Spiritual Jordan River before to part that you may cross over into your position and place of promise as per Jeremiah 29:11 in YAHUSHUA'S name!!!
Let ABBA YAHUVEH ELOHIM arise in HIS anger to scatter plus destroy every spiritual and physical Amalekite assigned against you with a death warrant so as to steal your inheritence, in the mighty name of YAHUSHUA HA MASHIACH!
AMEN!
It's time to step into and enjoy your inheritence as designed by YAHUVEH ELOHIM Almighty!
Video: TORAH
for Children – Parashat BeShalach – TORAH for kids – Bible for kids – Exodus 4
Video: Parshat Beshalach: The Story of Nachshon
Related Teachings:
……etc…
SHABBAT SHALOM Brethren!
It's Shabbat "BESHALACH/When He Let Go"
Also written as:
Beshallach, or Beshalah (בְּשַׁלַּח‬

— Hebrew for

"when [he] let go,"
(sun-down Friday 18th to sun-down Saturday 19th January 2019)
It points to the Future Final Redemption!
The Benei-Y'isra'EL / Children of Israel are finally released from bondage/slavery to Mitzrayim/Egypt after 430 years of residing there.
HalleluYAH!!!
We are the Spiritual Children of Israel (adopted through YAHUSHUA HA MASHIACH'S mighty and precious Blood).
John 1:12

 

Tree of Life Version (TLV)

12 But whoever did receive HIM, those trusting in His name, to these HE gave the right to become children of GOD.
Ephesians 1:5-6

 

Names of God Bible (NOG)

5 Because of his love he had already decided to adopt us through (YAHUSHUA HA MASHIACH) Yeshua Christ. He freely chose to do this 6 so that the kindness[a] he had given us in his dear Son would be praised and given glory.
Galatians 3:26-29 

Names of God Bible (NOG)

26 You are all GOD'S children by believing in (YAHUSHUA HA MASHIACH) Christ Yeshua. 27 Clearly, all of you who were baptized in Christ's name have clothed yourselves with Christ. 28 There are neither Jews nor Greeks, slaves nor free people, males nor females. You are all the same in (YAHUSHUA HA MASHIACH) Christ Yeshua. 29 If you belong to Christ, then you are Abraham's descendants and heirs, as GOD promised.
Galatians 4:6

 

Tree of Life Version (TLV)

6 Now because you are sons, God sent the Ruach of His Son into our hearts, who cries out, "Abba! Father!"
We too can be freed from whatever bondage/slavery to Satan that we may be experiencing as per Yesha'YAH(U)/Isaiah 61, etc! All we have to do is ask ABBA YAHUVEH (a.k.a YAHWEH, HASHEM, etc) to deliver us. It could be anything, for example, depression, marriage related, career related, sexual related, etc.
YAHUSHUA HA MASHIACH came to set the captives free from Satan/the devil!
Luke 4:18

 

Tree of Life Version (TLV)
18 "The RUACH Adonai is on me,
because He has anointed me
    to proclaim Good News to the poor.
He has sent me[a] to proclaim release to the captives
and recovery of sight to the blind,
to set free the oppressed,
Shabbat Shalom!
"BESHALACH", "Shabbat SHIRA" and "TU B'SHVAT"
Today's Shabbat is also called:
Shabbat "SHIRA" as it is the Shabbat of Singing Praises to YAH Almighty.
In today's Parasha, we read the "SONG OF MOSHE/MOSES" and the "SONG OF MYRIAM".
Tomorrow is the:
Festival of "TU B'SHEVAT"
(sun-down Sunday 20th to sun-down Monday 21st January 2019) also known as:
"Rosh HaShanah La'Ilanot" ( Hebrew: ראש השנה לאילנות )
Meaning:
The "BIRTHDAY OF THE TREES (in Israel)"

.
It's a crucial feast though minor as it reminds to check our:
Spiritual Roots and Spiritual Fruit, etc.
Based on:
Deuteronomy 20:19; John 15, Galatians 5:22-23; Psalm 11:3, Psalm 1; Daniel 4, etc.
We mark the 15th of Shevat by eating fruit, particularly from the kinds that are singled out by the TORAH in its praise of the bounty of the Holy Land:
grapes, figs, pomegranates, olives and dates.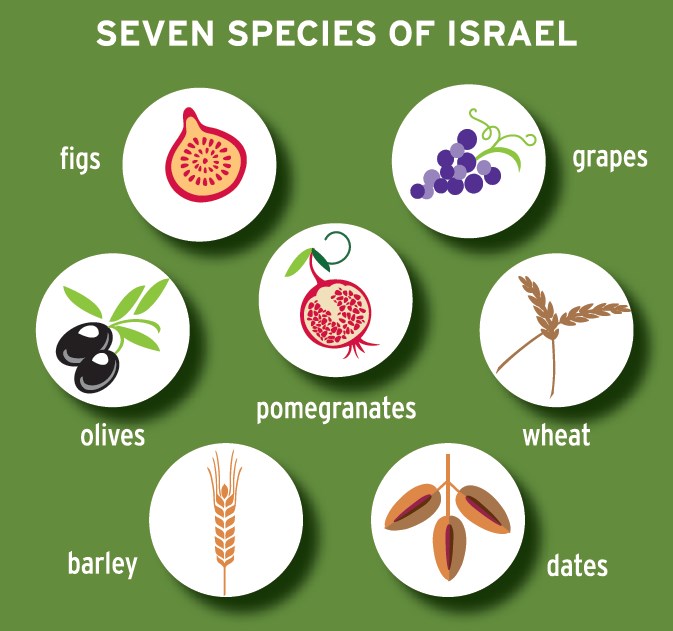 On this day, we remember that "man is a tree of the field" (Deuteronomy 20:19), and reflect on the lessons we can derive from our botanical analogue.
More information can be found on our website. Will send the appropriate links at the end of Shabbat so you can focus on Shabbat for now.