SHALOM!
Video: Unfurling of the largest Israel and Jerusalem flag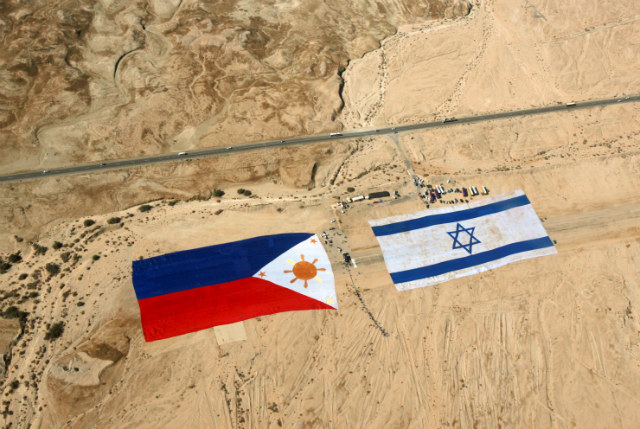 Grace G. Gupana: Maker of the world's largest flag
MANILA, Philippines – While the world's largest flag may not be that of the Philippines, a Filipino woman is behind it.

Grace Galindez Gupana, founder of a Christian charismatic group that claims global reach, takes pride in setting two Guinness World records for the world's largest flag and the world's largest banner this year.

Gupana, who once worked as a sago't gulaman vendor at the Quezon City Hall grounds, is the only Filipino so far who has managed to get two world records and the only woman who set those feats in less than 30 days apart.

She was behind the blue and white Israeli flag that was unfurled last November in Masada, Israel. It measured 18,847 square meters (about the size of two football fields) while tipping the scale at 5.2 metric tons; upstaging the previous record of the US flag in 1996 which was at 11,964 square meters.

The second largest flag of the world, the Philippine flag, was smaller by less than 30 square meters (18,818).

She originally wanted the two flags to have the same size. However, in 2006 the Philippine flag was ripped after strong gusts of wind tore the 200 by 100 meter-flag (A similar fate happened to Indonesia when its flag was unrolled on a building in 2003).

Less than 30 days later, she went to Israel, unfurled a new Philippine flag and the Israeli flag and sew them together with the North Korean and South Korean flags and miniature flags of 180 other recognized United Nations members, spanning 54,451 square meters.

Gupana called it the "777 Yahweh's Banner" which, she said, does not only highlight the four highly christianized countries in Asia but also gave overseas based Filipinos a new source of pride.

"We usually had a hard time at the airport in Israel since we were Filipinos. But when they saw in the news what we did, they were in awe. They let us through. Wherever we go, we were praised," said Noel Luna, who accompanied Gupana to Israel.

For her, this was the product of her work which she dedicated to God.

"You treat my people as you respect your brother," Gupana recalled telling Israeli officials during the Guinness stamping of the world's largest flag.

"[Filipinos] are now respected [in Israel]," said Noel, "[Before,] Filipinos occupied a different elevator."

A difficult task

The unfurling of the world's largest flag was not in any measure a small undertaking.

From the Philippines, the two flags were shipped to Israel and brought to the foot of the ancient Jewish fortress in Masada, all expenses shouldered by Gupana.

Salty winds from the Dead Sea constantly swept across the desert, carrying sand and dust to more than 40 volunteers—including Filipino caregivers and 400 Arabs and Jews—under the scorching November afternoon sun.

Gupana said she chose the venue in Israel, as well as the choice of flags, to commemorate the 40th anniversary of Israel's victory in the six-day war; the 50th anniversary of the Israel-RP relations and the centennial of the Christian revival in Korea.

But before going to Israel, Gupana said she received a "tall order from God" one day while she was contemplating on her life on top of her seven-storey building in Quezon City.

"It came in thunder and lightning. God said I needed to raise the standard of his people to raise his own standard," Gupana told GMANews.TV in an interview.

So, for the next few months, she defied her husband's wishes and started to finance the making of the largest Philippine flag in August 26, 2006.

One month, two artists, 10 seamstresses, and 3,772 kilograms of materials later, the flag was done.

"I got depressed when the flag was torn apart. I cried. But I guess God was giving me a sign," Gupana said.

Instead of being swallowed up by her disappointment, she was back on the drawing board and planning a grander project.

She thought of making the Israeli flag instead since it was "God's country."

Gupana admits her struggles in making the flags seemed to parallel her own battle in life—filled with big dreams, frustrations, and a lot of faith.

Graceful life 

Despite earning a secretarial diploma at the Philippine Women's University in 1982, Gupana failed to get a job for a year.

Armed only with 800 pesos in her pocket, she went to Divisoria, bought pieces of colorful paper, some cartolina, then locked herself in her room, and for days labored in making cards with inscribed biblical verses.

She then regularly hawked her handmade crafts to bookstores around Manila, ensuring that she was the only supplier in the city.

After much hard work and perseverance, Gupana had her own Christian bookstore by the end of the year.

Easy come, easy go

Gupana was an instant millionaire at the end of the 1980s, owning four businesses—including a restaurant and a flower shop—three vehicles, and one factory.

But success was also quick to get into her head.

"I got instantly drowned by my own success. I began to get bitter towards my family, who only provided me little support with my education before," she said.

In 1991, Gupana's life had a 180 degree spin.

She gave birth to premature twins who had to be kept in incubators. Her hospital bills reached P25, 000 a day, making her bankrupt after three months.

From a self-made millionaire, Gupana returned to spartan life, this time, with more mouths to feed.

"I found myself back where I started. I got so depressed. With my boastfulness, it was all gone," she said.

In that period, she went through deep introspection, resolved her issues with her family and eventually found herself getting closer to God.

"God seemed to tell me that I needed to go back to my senses. Go back to where I came from," said Grace.

Again with P800 in her hand, she bought ingredients for sago't gulaman and sold it outside the Quezon City Hall. By nightfall, her money grew to over P2,000.

From there, she added fish balls and rice porridge, and treated her customers well. After some time, she extended her business to food carts, and became popular among the city hall employees.

Eventually, through sheer hard work and determination, she worked her way up. She was invited to conduct livelihood programs and even got invitations to travel abroad.

Looking ahead

As an act of generosity, Gupana donated the world's largest flag to the government of Israeli, where she was told it would be unfurled every December 25.

Gupana was also honored by the Israel and Philippine governments for her feat. She will be flying back to Israel in March to receive an award.

For now, she said she won't be making anymore world records, and instead promote tourism and bilateral relations between Israel and the Philippines. 

"The flag is my testament to the message I received from GOD and I hope that in this way I can also promote tourism in Israel," she said. – 

Mark J. Ub

alde, GMANews.TV
REFERENCE/SOURCE:
Giant Israeli Flag Breaks World Record for Largest in World

Filipino entrepreneur and evangelical Christian Grace Galindez-Gupana said she produced flag to show love for Israel.
Beneath the ancient Jewish desert strongpoint of Masada, the world's largest flag was unfurled Sunday, covering a large stretch of sandy hinterland.

The huge blue and white Israeli flag, 660 meters (2,165 feet) long and 100 meters (330 feet) wide and weighing 5.2 metric tons, breaks the record for the world's largest, according to the Tourism Ministry.

It was measured by representatives for the Guinness Book of Records.

Filipino entrepreneur and evangelical Christian Grace Galindez-Gupana said she decided two years ago to produce a giant Israeli flag as a testament to her love for Israel and the Jewish people, and as a celebration of 50 years of diplomatic relations between the Philippines and Israel.

"God spoke to me in thunder and lightening," Galindez-Gupana said. "The Lord said, 'Make the flag of Israel, the standard of my people.'"

"This is a tall order," she said, as she broke down in tears.

The record-breaking Israeli flag was accompanied by a giant Philippines flag – huge, but not quite as big. It weighed only about 3.8 metric tons.

Large stones anchored both flags as they billowed in the desert winds.

"They were made in the Philippines and shipped to Israel days ago," said Daniel Rozen, spokesman for Living Stone Ministries, a group that helped bring the flags to Israel.

"There are about 31,000 Filipinos in Israel, most of whom are foreign workers," said Gilberto Asuque, consul general of the Philippine Embassy in Israel.

"This flag expresses the friendship between the Philippines and the state of Israel, and also the friendship between Jewish and Christian communities," said Shaul Zemach, director of the Tourism Ministry.
REFERENCE/SOURCE:
Video: Grace Gupano donated the Largest Ark of the Covenant to Passion For Truth Ministry
Video: Shavuot 2015 – Encounter – Jim Staley
Sister Grace Gupano speaks