via Chanukah/Hanukkah : The PRAYERS/BLESSINGS & SCRIPTURES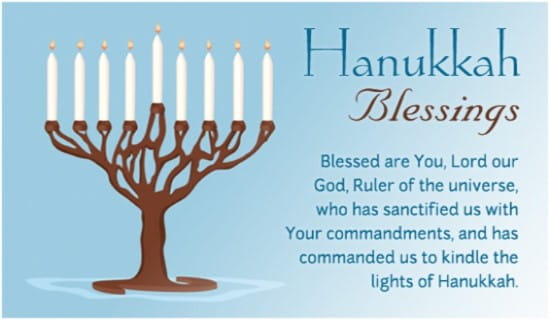 CHAG CHANUKAH/HANUKKAH SAMEACH!
HAPPY FESTIVAL OF DEDICATION & LIGHTS!
Click on the link above for more information….
On each night of Chanukah we light the Shamash Candle (that is, the Helper or Servant Ccandle – usually the one at a much higher level than the rest) then afterwards light the First candle on the right handside of the Hanukkiah (that is, the Chanukah Menorah). We light from RIGHT to LEFT SIDE!
Light the Shamash candle, say bracha/blessing (the one we normally say or sing every Shabbat on Friday at sunset)
Then light the First candle from the right hand-side. Say or sing 2 more blesssings.
Today evening marks the beginning of the third day of Chanukah hence three candles are lit. The shamash candle is the fourth but is not really counted as it is on helping.
This is a Specially Set-apart time to RED-DEDICATE OURSELVES UNTO YAH ALMIGHTY!
Video: Learn to Light the Chanukah Candles with Kids
SHALOM!