A Time To Check your Spiritual Foundation/Roots & Spiritual Fruit
via "TU B'SHEVAT": Check your Spiritual Foundation/Roots & Spiritual Fruit!
HAPPY BIRTHDAY TREES!
CHAG TU B'SHEVAT SAMEACH!
Click on the above link (and more links below) for more information….
Leviticus 19:22-24

 

Names of God Bible (NOG)

22 In Yahweh's presence the priest will use them to make peace with the Lord for this sin. The man will be forgiven for this sin.

23 "When you come into the land and plant all kinds of fruit trees, you must not eat the fruit for the first three years. 24 In the fourth year all the fruit will be a holy offering of praise to Yahweh. 25 In the fifth year you may eat the fruit. Do this to make the trees produce more for you. I am Yahweh your Elohim.
SHALOM Brethren! The (Minor) Festival of "Tu B'Shevat" is here. In the Holy Land, Israel at this time of year, the winter is coming to an end and spring is commencing. It means the trees are coming back to life.
On this Moed/Appointed Time or Feast, it is tradition to plant a seed that will lead to the growth of a tree.
However, in countries where the winter is still on-going, we are to have a "Tu B'Shevat Seder" during which time we say Brachot/Blessings over various fruits which the LORD YAHUVEH has blessed us with.
We are more than welcome to do both planting seeds and enjoying the "Tu B'Shevat Seder" if we live in places where there is a tropical climate.
There are seven main fruits to be said blessing upon however we can also have other fruits at the table. Our main meal at sun-down includes a lot of fruits. Additionally, from today onwards, for the next 15 days left of this month, we are advised to increase how many fruits we eat daily.
Read and use Psalm 1; Jeremiah 17; John 15 to pray during this feast, this week and rest of the month of Shevat.
Ask YAH Almighty to make you the spiritual branch and tree that HE would like you to be.
Deuteronomy 20:19

 

Names of God Bible (NOG)

19 This is what you must do whenever you blockade a city for a long time in order to capture it in war. Don't harm any of its fruit trees with an ax. You can eat the fruit. Never cut those trees down, because the trees of the field are not people you have come to blockade.
Jeremiah 17:5-8

 

Names of God Bible (NOG)

5 "This is what Yahweh says:

Cursed is the person who trusts humans,
    who makes flesh and blood his strength
        and whose heart turns away from Yahweh.
6 He will be like a bush in the wilderness.
    He will not see when something good comes.
    He will live in the dry places in the desert,
    in a salty land where no one can live.
7 Blessed is the person who trusts Yahweh.
    Yahweh will be his confidence.
8 He will be like a tree that is planted by water.
    It will send its roots down to a stream.
    It will not be afraid in the heat of summer.
        Its leaves will turn green.
    It will not be anxious during droughts.
        It will not stop producing fruit.
For the Brachot/Blessings, the following video is useful to watch.
For the Seder, you need to have:
Grape Juice or Kosher Wine

Almonds

Dates

Pomegranates, Avocado

figs

berries

Oranges

walnuts

pistachios

bananas

apricots

Wheat

Olives

Grapes 

Barley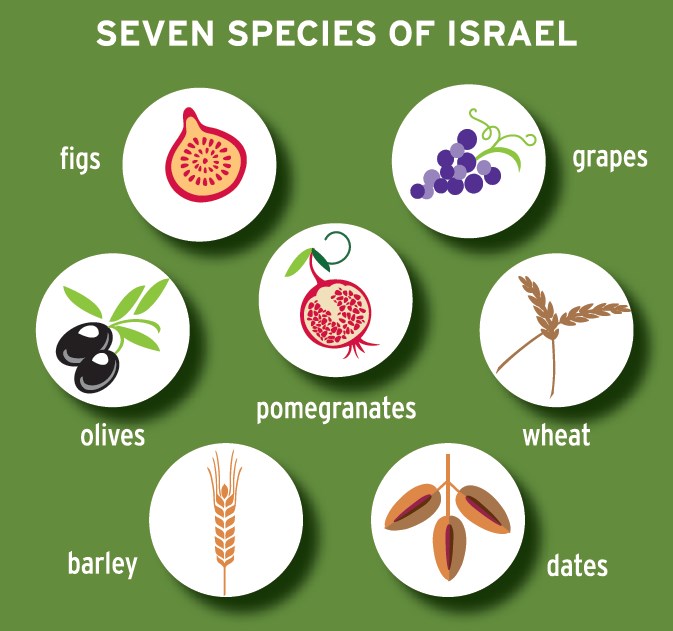 Fruits and nuts with hard, inedible exteriors and soft edible insides, such as oranges, bananas, walnuts, and pistachios. Note that some count oranges and other citrus as wholly edible, in keeping with the interpretation of the etrog as being on the highest level.
Fruits and nuts with soft exteriors, but with a hard pit inside, such as dates, apricots, olives and persimmons
Fruit that is eaten whole, such as figs and berries.
Video: "Tu B"Shevat Sedar/Order"
(By Apostle Ezra of YAH'S Amightywind Ministry)
Related Teachings: