via Feast Of WEEKS/PENTECOST (in Hebrew: SHAVU'OT)
Click on the above link for more information…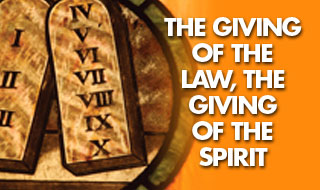 During the last 10 days, we have been daily reading and digging deep in Exodus 20 and Acts 2 as well as Joel 2:25-32.
We have also read Matthew 25:1-13 – The Parable of the Ten Virgins
It has been a great joy and blessing to read the above mentioned Holy Biblical Scriptures as YAH Almighty has thrown some light on the Ten Commandments.
If you haven't experienced Baptism by Water Immersion and RUACH HA KODESH (HOLY SPIRIT) Baptism, this is the season to try and get it done and out of the way. HalleluYAH!
If you have already experience the above, this is the season for renewal, HalleluYAH! Key in and let YAH fill you afresh with HIS MIGHTY RUSHING WIND and TONGUES OF FIRE (Acts 2:1-4). Let YAH renew and purify your Prayer Language also.
This image is only for demonstration purposes (doesn't break the 2nd commandment unless one worships it) – so those who haven't yet had visions of Heaven can gain better understanding of YAH THE HOLY TRINITY GODHEAD! It puts things into perspective. YAH has given permission to design the images so as to help HIS beloved people to understand HIM better!
Who/What is RUACH HA KODESH (HOLY SPIRIT)?
The following are web-links with information related to SHAVUOT PENTECOST:
HalleluYAH HalleluYAH HalleluYAH HalleluYAH HalleluYAH HalleluYAH HalleluYAH!
Dear Brethren in YAHUSHUA HA MASHIACH (a.k.a JESUS CHRIST), we are in a season of celebration, Praise YAH Almighty!
May YAH Almight bless you abundantly during this season, in YAHUSHUA'S Name, Amen!
SHAVUOT (SHAVU'OT) PENTECOST is the birth of the anniversary of the birth of the Messianic Communities (Church) around the world.
Shavuot 2020 will begin in the evening of
and ends in the evening of
A few videos of SHAVUOT PENTECOST Songs:
Video: I Give Myself Away by William McDowell
Video: Don Moen – All To YOU
Video: Pentecost/Shavuot Songs
Video: Don Moen – A Hungry Heart