via Month Of "IYAR" a.k.a "IYYAR"
(will add more notes as soon as possible. Please bear with us. Thank you.)
IYYAR:
The Month of HEALING/RESTORATION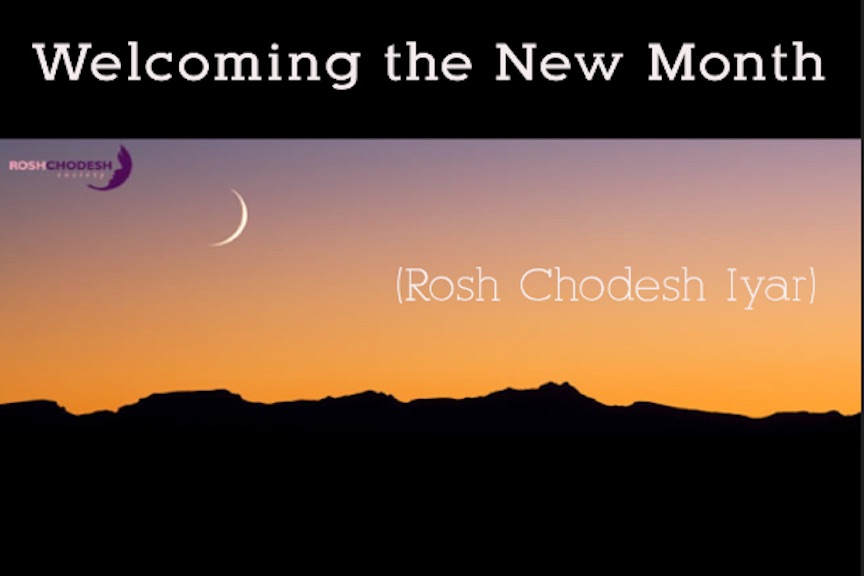 Numbers 28:11-15

 

Names of God Bible (NOG)

Monthly Sacrifices

11 "On the first of every month bring Yahweh a burnt offering of two young bulls, one ram, and seven one-year-old lambs that have no defects. 12 With each bull there will be a grain offering of 24 cups of flour mixed with olive oil, with each ram a grain offering of 16 cups of flour mixed with olive oil, 13 and with each one-year-old lamb a grain offering of 8 cups of flour mixed with olive oil. This is a burnt offering, a soothing aroma, an offering by fire to Yahweh. 14 The wine offering that goes with each bull will be 2 quarts of wine, with each ram 1½ quarts of wine, and with each lamb 1 quart of wine. This will be the monthly burnt offering for every month of the year. 15 In addition to the daily burnt offering with its wine offering, one male goat must be offered to Yahweh as an offering for sin.
SHABBAT SHALOM Brethren,
The Hebrew month of Nisan a.k.a abib/Aviv has come to an end. We have now commenced the Hebrew month of Iyyar. This is the second month of the Hebrew Ecclesiastical year according to Exodus 12 and the eighth month of the Hebrew Civil year as per Genesis 1-2.
The word Iyar means blossom or rossette.
Iyar is the second month on the Jewish calendar counting from Nissan. It's a 29 day month.
Shortly after the Exodus, the thirsty Israelites reached a well of bitter water. Moses cast a tree into the water, and it miraculously became sweet. YAH Almighty then promised that if Israel followed His ways, "the diseases I have placed on Egypt I will not place upon you, for I AM YAHUVEH your HEALER/RAPHI (אני י‑י רפאך)." The acronym for this last phrase spells out the name of the month of Iyar (אייר), thus indicating that Iyar is a propitious time for healing.
Although Iyar does not contain many "special days," every single day of the month is included in the Sefirat HaOmer counting—the mitzvah to count each of the 49 days between Passover and Shavuot.
Sefirat HaOmer is a period of introspection and self-refinement, as we prepare ourselves to receive the 

TORAH and RUACH HA KODESH

 anew on Shavu'ot. Each day of Iyar represents another step in this spiritual journey toward Sinai.
The 14th day of Iyar is Pesach Sheni, "the second Passover." The TORAH describes how YAH Almighty created this holiday at the request of those who, for reasons beyond their control, were unable to offer the paschal sacrifice in its proper time. One month later, they received a second chance. Pesach Sheni reminds us that it's never too late. With sincere effort, yesterday's missed opportunity can become today's achievement.
A Prayer for the New Month:
May YAH Almighty cause our lives to blossom for HIS GLORY, in YAHUSHUA'S Name, Amen!
May this new month be a month of restoration in full measure in every area of your lives of every good thing that Satan has robbed from you, in YAHUSHUA HA MASHIACH'S Name, Amen! (Yo'EL/Joel 2:25)
including:
marriage
employment /business
finances
education/academically
ability to bear children
spiritually
mentally, etc.
By the stripes of YAHUSHUA HA MASHIACH, we're healed in YAHUSHUA'S Name, Amen! (YeshaYAHU/Isaiah 53; Jeremiah 17:14)
Use the following song to pray by calling on YAH'S Names in accordance with your need:
YAHUVEH Tsidkenu – HE is our righteousness (Jeremiah 23:6)
Jeremiah 23:6

 

Names of God Bible (NOG)

6 In his lifetime, Judah will be saved,
    and Israel will live in safety.
    This is the name that he will be given:
    YAHWEH TSIDEQENU.
YAHUVEH M'Kaddesh – The ONE who sanctifies (Leviticus 20:8)
Leviticus 20:8-10

 

Names of God Bible (NOG)

8 Obey my laws, and live by them. I am YAHWEH who sets you apart as holy.
YAHUVEH SHALOM – HE is our Peace (Judges 6:23-24; John 14:27)
Judges 6:23-24

 

Names of God Bible (NOG)

23 YAHWEH said to him, "Calm down! Don't be afraid. You will not die." 24 So Gideon built an altar there to YAHWEH. He called it YAHWEH SHALOM. To this day it is still in Ophrah, which belongs to Abiezer's family.
Psalm 4:7-8

 

Names of God Bible (NOG)
7 You put more joy in my heart
than when their grain and new wine increase.
8 I fall asleep in peace the moment I lie down
because you alone, O YAHWEH, enable me to live securely.
Isaiah 9:6-8

 

Names of God Bible (NOG)
6 A child will be born for us.
    A son will be given to us.
    The government will rest on his shoulders.
    HE will be named:
        Wonderful Counselor,
        Mighty YAH (a.k.a ELOHIM),
        Everlasting Father,
        SAR SHALOM.
7 His government and peace will have unlimited growth.
    He will establish David's throne and kingdom.
    He will uphold it with justice and righteousness now and forever.
    YAHWEH TSEBAOTH is determined to do this!
YAHUVEH Shammah – HE is there (Ezekiel 48:35)
Ezekiel 48:34-35

 

Names of God Bible (NOG)

34 The west side will be 7,875 feet long. The three gates on the west side will be Gad Gate, Asher Gate, and Naphtali Gate.

35 The city will measure about 31,500 feet all the way around. From then on the city's name will be: Yahweh Shammah.
YAHUVEH RAPHI a.k.a ROPHE – The ONE who heals (Exodus 15:26; Jeremiah 17:14)
Exodus 15:26

 

Names of God Bible (NOG)

26 He said, "If you will listen carefully to YAHWEH your ELOHIM and do what he considers right, if you pay attention to his commands and obey all his laws, I will never make you suffer any of the diseases I made the Egyptians suffer, because I am YAHWEH ROPHEKA."
YAHUVEH Yireh – The ONE who provides for provision shall be seen (Genesis 22:14; Psalm 34; Psalm 104; Philippians 4:19)
Genesis 22:13-15

 

Names of God Bible (NOG)

13 When Abraham looked around, he saw a ram behind him caught by its horns in a bush. So Abraham took the ram and sacrificed it as a burnt offering in place of his son. 14 Abraham named that place YAHWEH YIREH. It is still said today, "On the mountain of YAHWEH it will be provided."
YAHUVEH Nissi – HE is my banner (Exodus 17:15; Psalm 20:5)
Exodus 17:15

 

Names of God Bible (NOG)

15 Moses built an altar and called it YAHWEH NISSI.
YAHUVEH Rohi a.k.a Roeh – HE is my Shepherd (Psalm 23; John 10)
Psalm 23:1

 

Names of God Bible (NOG)

Psalm 23

A psalm by David.
1 Yahweh is my Roeh.
    I am never in need.
Song – Vinesong – JEHOVAH (a.k.a YAHUVEH) (Lyric Video)